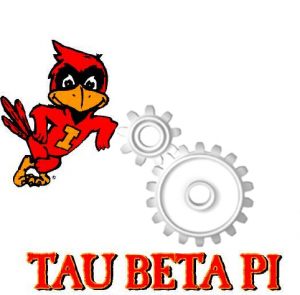 The 2021 Roller Coaster Competition is ramping up for Spring 2021!
In conformity with COVID-19 precautions, this year's Roller Coaster Competition will be held virtually! We are looking forward to seeing your creativity. Announcement of the Rube Goldberg Challenge for the 2021 Roller Coaster Competition will be made on March 15, 2021. Submission of entries will officially open April 1, 2021
For the 2021 Roller Coaster Competition participation of K-12 students is invited.  Entries in the following categories will be judged separately: High School student teams, Middle School student teams, and teams of Family/Friends.
Requirements:
Participants should be K-12 students.
Teams may be composed of 1-4 people.
Video submissions may be made beginning on April 1 and must be received by April 15, 2021.

Must include: oral presentation and Rube Goldberg machine run
Rules:
Parental assistance for younger students is encouraged. For middle to high school students, coaches/parents can contribute ideas and technical advice, but should not assist in construction of the roller coaster.
Prefabricated construction toys (ex: Hot Wheels tracks (cars are acceptable), LEGOs, etc.) may be used for theme or decoration, but should not be part of the operating machine.
Once the machine starts, no further human intervention is allowed.
The more creative the mechanisms used, the better.
Each team is only allowed to submit a video of one Rube Goldberg Machine.

Machines can run for any length of time, however, in judging the entry, the technical score will be doubled for machines that operated for 30 seconds ± 3 seconds, and the Rube Goldberg Challenge is completed.
Video Submissions are now open until April 15th! Please submit Roller Coaster Competition Videos at this link: Roller Coaster Competition Submission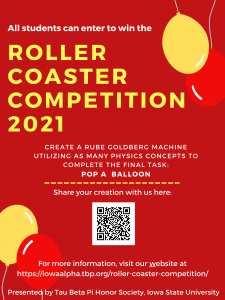 The Rube Goldberg 2021 challenge is "Pop A Balloon"!
If you want to sign up for the 2021 Roller Coaster Competition, please use the following  link: Roller Coaster Competition Sign-Up Form
For a full list of rules and technical requirements, take a look at the following documents:
2021 Roller Coaster Judges Form
For high school seniors, who participate in this event and attend Iowa State University to study engineering beginning Fall 2021, you may apply to receive a  $500 Tau Beta Pi Scholarship!
Requirements for scholarship eligibility: 
Graduating from high school this spring semester.

Attending Iowa State University in the fall 2021.

Enrolled in an engineering major.
Requirements for scholarship submission:
High school transcript

One letter of recommendation

A 500-1000 word essay that discusses the question, "What responsibilities do engineers have to society, to the companies for whom they work, and to themselves?"
For the full description of the scholarship requirements, please look at the following document: 2021 Scholarship Application.
Winners of the 2020 Roller Coaster Competition were:
Cassandra Swacker – Best High School Submission
Brody Roth, Tate Osterhaus, and Gavin Pienkowski – Best Middle School Submission
Anna, Jacob, Clare, and Natalie Tallman – Most Creative Submission
Lilah and Celia Forbes – Best Teamwork
—————————